Groups file signatures to put map-drawing amendment on fall ballot
By Ohio Public Radio


7/3/2012 1:56:36 PM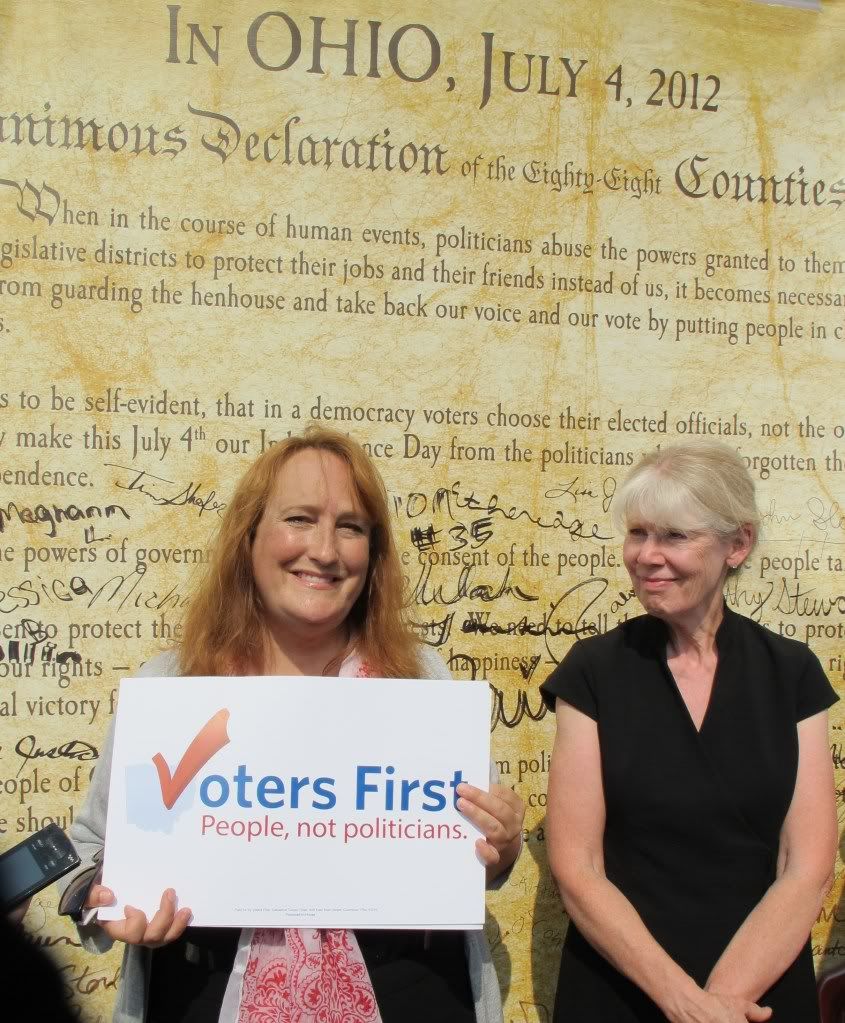 Catherine Turcer from Voters First and Ann Henkener from the League of Women Voters of Ohio standing before a mock-up of their constitutional amendment, in front of the Franklin County Board of Elections. (Photo by Karen Kasler, OPR)

A coalition of voter groups has filed what it says are enough signatures to put on the ballot a change in Ohio's process for drawing maps for lawmakers' districts.

Voters First is proposing a constitutional amendment to create a 12 member citizens' commission that would draw the boundaries for state House and Senate districts as well as Congressional districts. Politicians, lobbyists and political donors wouldn't be permitted to serve on that panel.

Catherine Turcer is the chair of Voters First, and said the group will file more than 430,000 signatures--44,000 more than needed.

"We're celebrating Independence Day the way that you should," said Turcer. "Thinking about our forefathers; thinking about the quality of our vote; thinking about what we as voters can do to actually make a difference."

Right now, Ohio House and Senate districts are drawn by a five member panel of elected officials from the two major political parties, and the Congressional map is drawn by state lawmakers.

The maps drawn last year resulted in lawsuits and a lengthy battle in the legislature that at one point created two primaries for 2012. A deal over the map merged the primaries into one, but critics still claim the maps are unfair.



Listener Comments